Marilyn Brandt
Assistant Trainer
Marilyn was born in northern Illinois and grew up riding horses in 4-H. She attended Black Hawk College where she competed on the horse judging and equestrian teams. She then transferred to West Texas A&M University in Canyon, Texas and completed her bachelor's degree in Equine Industry and Business. While at WT she competed on the equestrian team in horsemanship and reining and competed on the horse judging team where she was high individual overall at the AQHA World Show. She also competed on the stock horse team. Marilyn then started graduate school at WT and worked as the Operations Manager for the University Horse Center while completing her masters degree in Animal Science and coaching the stock horse team. During summers and down time Marilyn has had the privilege of working for Craig Morris Cutting Horses, Tom McCutcheon Reining Horses and several other performance horse trainers in Texas, Missouri and Illinois. Marilyn is an integral part of Al Dunning Training Stables where she helps give lessons, train horses and is in charge of all the horses health and fitness. We are proud to have Marilyn as an integral part of the team.
Reilly Dhaliwal
Office Manager
Reilly was born and raised in Boulder, Colorado. She grew up riding in 4-H, the Interscholastic Equestrian Association, and showing in the reining and ranch riding. She also attended West Texas A&M University in Canyon, TX and completed her bachelor's degree in Equine Industry & Business, with Minors in Accounting and Animal Science. While at WT, she competed on the equestrian team in both reining and horsemanship, serving as the Western Team Captain her senior year. She also competed on the WT Horse Judging team, and worked as a colt starter through college. After graduation, Reilly moved to Arizona and spent a year working for the Arizona Quarter Horse Association before joining us at Al Dunning Training Stables, where she manages the office and AD Tack Store.
Dr. Jerry Longworth
Attending Veterinarian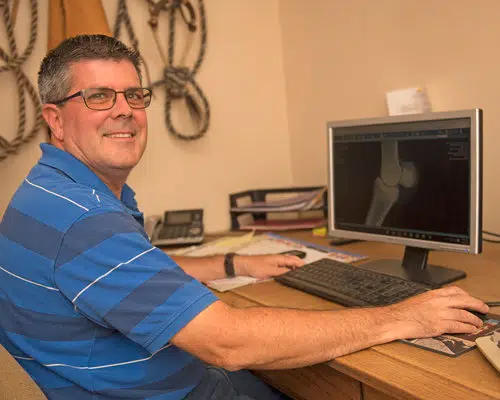 Dr. Jerry Longworth has spent a lifetime with animals. Jerry is a graduate of the University of Pennsylvania, and owns and operates Scottsdale Equine Reproduction Center, LLC.  Dr. Longworth has been caring for our horses since 2011.  His attention to detail and each animal's welfare leaves no doubt that the horses at Almosta Ranch receive the best care.  From feeding and preventative care to soundness issues and rehabilitation, Dr. Longworth supervises and consults on all aspects of our program. In his spare time, you can find him in the cutting pen competing with his World Champion gelding, Zack and Blue.
Born in Blair, Nebraska, Eric has been shoeing horses professionally since 1990. He learned the trade from his father, who taught horseshoeing at the Oklahoma State Horseshoeing School. By age 11, Eric had passed a 2-week horseshoeing school. Eric and his family worked at various horse racing tracks, where he shod and exercised horses until age 18. He later apprenticed under horseshoer John MacKenzie for 2 years. In 1998, Eric won the Four Corners Shoeing Contest which consisted of making various shoes and shoeing a horse.
In his youth, Eric was an accomplished motocross racer and bronc rider, winning many titles and championships. Eric, his wife Leigh Ann, and their two daughters are actively involved in rodeo. Most recently Eric won the 2016 National Senior Pro Rodeo World Championship in heading and the 2016 NSPRA Finals average with Leigh Ann.